It appears Google has been tweaking the display of Google News content in its search engine results pages, occasionally showing a new design for certain keyphrases.
The different layout, shown below, features a gray bounding box around the Google News headlines, creating more differentiation from Google's standard organic results. The box also consistently appears at the top of SERPs. This is an improved position for news content, which frequently had a standard result above it.
Additionally, the box features:
-A smaller, 14-px font that shows the headline and source publication equally.
-A longer character limit that's approximately 83 characters.
-A gray newspaper icon with a "More News" link in lieu of a link at the top of the box containing "News for" plus the search term.
-The new design seems to reliably display three headlines, whereas the old display showed different amounts, usually between one and three.
It's unclear what triggers one display versus another, though adding the words "news" or "news about" to a topic more commonly yields the new display. Some keyphrases that currently trigger the new box include "Kobe Bryant news," "Orlando news," "Syria news," "Fort Worth news" and "Dolphins news" (though "Miami Dolphins news" does not trigger the display).
NEW DISPLAY: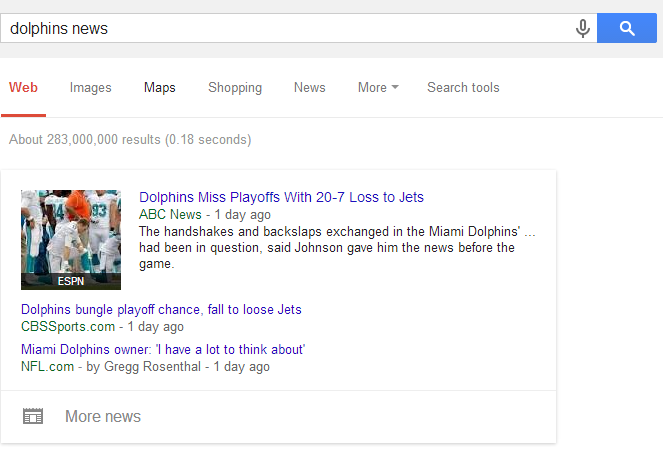 OLD DISPLAY: