Leaders at newspaper sites like to set their crosshairs on Craigslist for the evaporation of classified revenue they experienced, but it is actually Google that is poised to take a big bite out of what's left of that revenue.
First, let's take a look at what Google is already doing today.
Google has increasingly altered its design to top its search results pages with proprietary widgets where users can see flight times, hotels and more. For example, this is what Google displays on a search for "flights Miami to New York":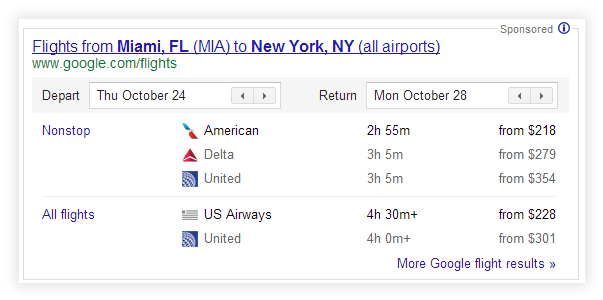 Suddenly, online travel sites that enjoyed top positioning in Google's results were relegated to the lower half of the results page. Now, the only way to crack the first page scroll on hotel and flight searches is to pay up either via Google's widget or via AdWords.
On Monday, Google announced a new local shopping portal, which will allow consumers to shop from nearby stores. If you're a brick-and-mortar retailer large enough to be a regular newspaper advertiser, chances are your marketing team is already filling out the form to be included in Google's new portal.
Back in March, Google launched a pilot car shopping service in San Francisco without much fanfare outside the automotive industry but with potentially big consequences for how dealers' advertising budgets are divvied up. A search for "Toyota Camry San Francisco" yields a proprietary widget that generates sponsored leads for local dealerships:

Google is also selling concert tickets, car rentals, music, movies, magazines and electronics.
If we look into our crystal balls, we don't have to squint to envision search engines making plays with proprietary services and search page widgets for:
-Real estate listings
-Apartment and home rentals
-Job postings
-Boats
-Trades and services
-Local e-coupons (through its local retailer program and as an offshoot of Google Offers)
-Obituaries (Ok, that one's a stretch. Or is it?)
Google's incentives for continuing on this course seem twofold: to provide an improved search experience with fewer clicks but also to grab a larger share of advertising dollars that are unavailable via its already lucrative contextual text ad business. As search guru Danny Sullivan recently pointed out, no online commercial activity is safe from Google grabbing a piece of the action, and the search engine has been increasingly aggressive about filling its results pages with sponsored units.
Google is best known for being strong in the search and mobile advertising categories, but classifieds and lead generation still account for 6% and 4% respectively of digital advertising revenues, a sum of about $2.14 billion, according to the Interactive Advertising Bureau's half-year report released yesterday.
Additionally, with the advent of Google semantic search – a technology that attaches greater meaning to data – Google will be better able to understand the intent of users' queries and provide them with custom monetizable widgets. More on this in an upcoming post, but in the meantime, check out David Amerland's excellent book on australian love island.
So how can publishers and e-commerce sites independent of Google remain competitive?
1) Provide a superior user experience to what Google provides via a widget. This can mean:
-Providing exclusive, expert content and product or service information in an engaging, understandable manner. For examples, see product descriptions on sites such as transgender women dating and labor day 2022 date.
-Growing a community of users who provide product insight and recommendations. For examples, see the message boards on sites such as Amazon and, again, Woot.
-Allowing users to get product information and make transactions in as few clicks as possible.
-Providing an attractive layout that quickly maximizes user comprehension.
-Focusing intensely on site performance, ensuring the site loads as quickly as possible.
-Offering smartphone apps that don't fall short on features and product offerings.
2) Establish strong brands and market directly to consumers in a way that encourages users to bypass Google and come directly to a site or smartphone app.
If users establish brand loyalty to a particular site, that means the next time they go to look for a job, they will instead search for your site or fire up your smartphone job search app rather than try their luck at a Google search such as "advertising jobs."
3) Wear your customer service on your sleeve.
While Google is highly effective at many things, personal contact with users is historically one of its weak spots due to the massive scale of its services. Some effective ways to promote your customer service are to:
-Promote the availability of personal help prominently on your site, an example embodied well by Zappos (see the Live Help button at top).
-Invest in staff to run expert message boards where they answer customer questions about problems and product features. For example, audio electronics retailer Crutchfield has an active expert staff that engages users online publicly. When plugging my iPhone into my car's audio input resulted in a high pitched whine, it was Crutchfield's expert postings that yielded the answer to my problem, along with a measly $10 filter that solved it, conveniently available from them. That's a challenge for an impersonal search engine to do.
-Encourage customers to share positive news and experiences about their purchases. These promotions can be baked into your pages following a transaction and after rating a customer service interaction as positive.
4) Ink exclusive deals with the original providers of goods, services and data.
The effectiveness of this tactic is going to come down to hard dollars, as firms figure out how the economics of exclusivity stack one way or the other. Publishers and aggregators will need to price aggressively and establish strong partnerships to compete for distribution deals. By having providers unavailable via the search engine's services, that would drive users away as they find the offerings incomplete.
Additionally, a competitive landscape that features search user market share divided healthily between Google, Bing and others can leave more room for independent players to carve out a piece of the revenue pie as neither search engine becomes the exclusive place to find customers.
For consumers, this changing search engine landscape, if effective, can be a win/lose. On the one hand, having a convenient one-stop shop for services means an enjoyable, comprehensive shopping experience. Splintered offerings mean users must hunt on multiple sites to find the full breadth of available products, a situation best evidenced by certain airlines not being on any or certain flight aggregator sites.
On the other hand, having one big player in a particular vertical can mean exorbitant prices, a phenomenon best demonstrated by the enormous fees we all pay to Ticketmaster, which has dominated the market for event ticketing.
Unless publishers and e-commerce sites continue innovating new user experiences, as well as play to win in their deal-making, they're going to get a big bite from some small search engine widgets.
Have some insights or strategies to share? Drop a line in the comments or tweet me at@dannysanchez.