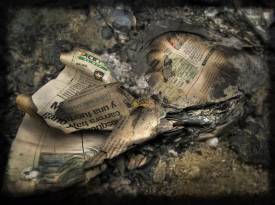 Count on the fact that some of the journalism work living on your news site will go up in smoke. To protect yourself, make sure you're keeping digital copies of your portfolio. [Photo by
Mr. Peebles
]
Journo/developer Joe Murphy has a terrific post today with tips on how to save your online clips from disappearing into the ether. News sites often have arbitrary policies and systems regarding what gets kept and what gets thrown out, so make sure you CYA. And if your news org switches content management systems, well, heaven help your old clips.
Head over to Joe's post for his complete tips, but here's a shortlist of tips with some of my own thrown in:
-Firstly, you SHOULD be saving your stuff! Trust someone who knows: You absolutely cannot rely on your organization to keep your stuff around. And, if you suddenly get laid off, you can forget about having free access to the text archive.
-Save the text of your article in document files. Make sure your file names are descriptive and contain the date the work published.
-Know that database-backed applications, such as the tools on many site's "data pages," cannot be easily saved. For these apps, take various screenshots that demonstrate the tool's functionality, such as shots of the search interface, individual records, comments features and how it was promoted on the site.
-Keep notes on how a project you worked on contributed to the site in terms of page views and unique visitors (i.e. "The New Jersey dog names database resulted in 1.2 million page views and 350,000 unique visitors over a one-month period.")
-Make screenshots of your online work using the free Pearl Crescent Page Saver plugin for Firefox. This is an incredible little tool. Or, you can use Scrapbook, which saves a copy of the entire Web page with its images intact (hat tip to Ryan Sholin).
-Become pals with the page design crew to get PDFs of your work that was published in the newspaper (Ryan again). Better yet, get them to tell you where and how to access the PDF archive. If this is unfeasible, invest in an inexpensive flatbed scanner to digitize the pages.
-Keep a backup of your portfolio. Like any important file, you might back it up to an extra hard drive and/or store it on a web server somewhere. I do both.
-Aside from your clips, career experts frequently recommend maintaining a list of key accomplishments. Sometimes, achievements in the newsroom don't take the tangible form of a "clip." Keeping a list up to date makes sure you remember what you've done and keeps the list fresh in your mind should an opportunity spontaneously present itself. You might have to suddenly answer the question: "So what interesting things have you done during your time at the Poughkeepsie Herald-Tribune-Picayune?"