Amy Webb over at MyDigiMedia cuts through the media circus around newspaper acquisitions and has a moment of clarity when she surveys the bigger picture and looks at "who owns what."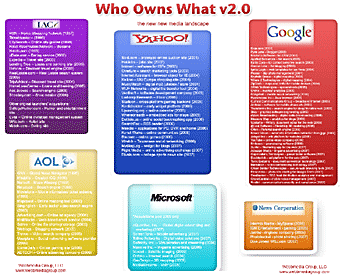 Amy has drawn up a handy chart showing the acquisitions made by IAC, Google, Yahoo, AOL, Microsoft and, yes, News Corp. Us newsie types like to think newspapers are the center of the universe, but there's a much larger landscape to be surveyed.
She writes:
"The future of media isn't only about content, it's about delivery. While journos are busy bickering about whether or not to allow visitor comments on their websites, other companies are moving full-speed ahead with radically different business models. They're thinking broadly: aggregator + search + content + mobile + gaming = sustainability."
In other words: If you're worried primarily about what to call the lifestyle section on your news site and not about, say, delivering content to mobile devices, then it's time to take your head outta your arse and start seeing the potential of slot online games.