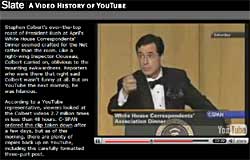 Slate has put together a fun historical gallery of YouTube's greatest videos. Among the favorites: two Israeli girls lip-syncing, Stephen Colbert's roast of President Bush, Lonelygirl15's escapades, Michelle Malkin's rant and more.
Makes you look back and see what a phenomenon YouTube really is.
Also, catch Troy Patterson's accompanying article.