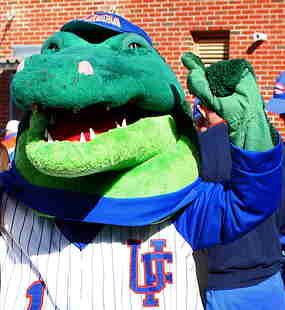 Ah, it feels like Christmas Eve. Tomorrow is the big national football championship game, where the righteous, mighty Florida Gators will take on the abominable minions of Ohio State.
I'm here at the Swamp –Gainesville, that is– to break out the old jersey, yell myself hoarse and hope for a repeat performance of the nightlong street festivities that took place last year following the basketball championship win.
This is like a national holiday here in Gainesville. So …er.. no blogging for a while folks! Be back Tuesday or Wednesday.
[Update 01-08-07: And check out the Alligator's coverage of the championship! Nice work guys.]
[Lovely Albert photo by gtmcknight]