My hometown of Hialeah, what is likely the most Cuban-American city in the United States and a place where 92% of its residents are Spanish speakers, has been forever changed.
A Starbucks has opened. And on the big 49th Street no less.
If you're not familiar with Hialeah, it's a place where the tiny shot of 50-cent Cuban coffee is king. It's a place where the tiny paper cups of hyper-caffeinated black cafecito are served up through a window, and big yellow water coolers are kept on the windowsill because the stuff is so strong. And this is no small town either; it's the fifth largest in Florida, making it more populous than Orlando and Fort Lauderdale.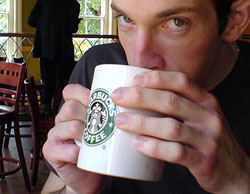 This development is akin to finding a McDonald's in Iran or an Outback Steakhouse in India. Unsettling.
The idea of a Starbucks in Hialeah has long been a topic of rueful speculation in my family. "Will a Starbucks ever open?" we wondered. "And will it last?" We love the vanilla bean frappuccino but feel strange about having it parked too close to home.
For better or worse, it feels like the culture of my hometown is changing and that one of the strikingly unique places in this country is being whittled away.
[Photos by augschburger and presidentservelan]