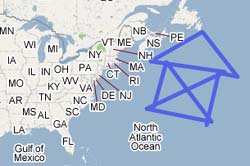 See how easy it is to use the My Maps polygon tool?
Google has just unveiled a new mapping tool called My Maps aimed toward everyday users.
The tool, which can be accessed by clicking the "My Maps" tab in the standard Google Maps, allows users to plot points on the map, add HTML to the info windows and even use the maps' new polygon features. The maps are intuitive and rather easy to use.
The uncool part: there doesn't appear to be a way to easily embed the maps on your own page using an iframe ala the Atlas tool. However, the polygon feature is way, way cool, and you can still download the data as a KML file (a Google Earth native format based on XML). Google Maps now officially supports KML files for adding data to maps, which are also now searchable through Google.
Google Maps Mania, a must-watch blog for all things Google mappy, has compiled a list of maps created with My Maps, as well as links to much of the media coverage.
Happy mapping!