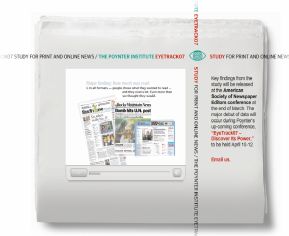 More details emerge about the Poynter Institute's much-heralded Eyetrack 2007 study after a week-long seminar in St. Petersburg, Fla.
From the article:
"It turns out [readers] will stay even longer when reading online. The editors were also pleased to hear that the extra work of providing lively, illustrated teasers or telling stories in a graphic package pays off by attracting extra reader attention.

On the other hand, the finding that the 600 readers tested in the study regularly read jumps was unexpected."
Make sure to browse through Poynter's other content, including a series of audiocasts, as well as a history of the study and a video about this year's study.
The study found the following results based on the preliminary release:
1) The largest percentage of story text read was higher online (77%) than in broadsheet (62%) or tabloid (57%) formats.
2) Print readers are more methodical, while online readers scan more by a margin of about 25%.
3) Sidebars, lists and QandAs boost reader understanding.
4) Online readers are drawn to navigational elements and teasers. Print readers are drawn to large headlines and photos.
5) Documentary-style photos get lots of attention. Staged photos, not so much.
More at Poynter's 'The Myth of Short Attention Spans.'