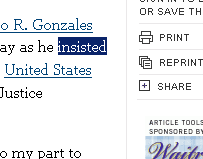 NYTimes.com has apparently rolled out a feature wherein users can double-click any word in a story and a dictionary or encyclopedia page will pop up.
There's a small, easy-to-miss line at the bottom of stories explaining the function.
Very nifty and a great way to keep people on your site just a little bit longer.
[Via David Knox on NICAR]