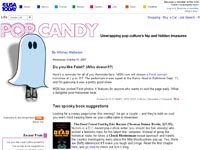 Shawn Smith over at New Media Bytes queried the hive mind at the ONA listserv, did his own digging and has put together a list of best newspaper blogs for comments, community and readability.
[UPDATE: Also, make sure to check out Squared's list of Mama Tribune's most popular blogs. Good stuff here!]
Among the picks: Bakosphere, Pop Candy, Pogue's Posts, Stuck in the '80s and many more.
This is a great list for inspiration and to gather pointers on blogging practices (at least as applied to newspaper sites), so check it out!
(And since Shawn for the most part excluded sports blogs on the list, I'm going to plug The Other Football, a soccer blog written by Brant Parsons for the Sentinel, as a heck of an example of how to do a sports blog well all by your lonesome.)