The National Writers Workshop is an excellent way to be inspired and get fantastic advice from some of the industry's best scribes — all for a price that won't break the training budget. I've attended the workshop in Fort Lauderdale, Fla. for the last three years, and it never fails to inspire me to become a better writer. The team that puts this together really does a fantastic job every year.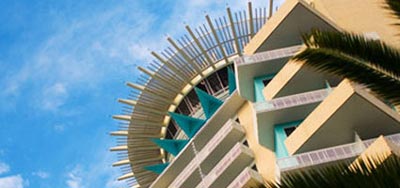 The beautiful Hyatt Pier 66 overlooks the Atlantic Ocean in Fort Lauderdale, Fla.
Early bird registration is $100 for the Sept. 20-21 workshop ends Monday, June 9. You get one free registration if you purchase three registrations at the professional rate before Aug. 15. Student/teacher registration is $60, and there will be an internship fair on Sunday. Details at www.sun-sentinel.com/writers
Here's the nutshell:
National Writers' Workshop 2008
Hyatt Pier 66
Fort Lauderdale, Fla.
Sept. 20-21
Speakers at the workshop include:
Dave Barry, best-selling author and Pulitzer Prize winning columnist, The Miami Herald
Gene Weingarten, Pulitzer Prize winning columnist and feature writer at The Washington Post
Laurel Touby, founder and CEO of MediaBistro.com
Diana Henriques, investigative reporter, The New York Times
Mark Fainaru-Wada of ESPN and Lance Williams of the San Francisco Chronicle, authors of Game of Shadows: Barry Bonds, BALCO, and the Steroids Scandal that Rocked Professional Sports
andeep Junnarker, interactive journalism professor at the CUNY Graduate School of Journalism
Jacqui Banaszynski, Pulitzer Prize winning reporter and writing coach. Knight Chair in Editing, University of Missouri School of Journalism.
Questions? Email Gail Bulfin at gbulfinATsun-sentinel.com.