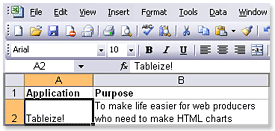 Web producers here in our newsroom often have to throw up quick charts of data online, but hand-editing a table from a spreadsheet or exporting it from Office or Dreamweaver can be a time-consuming endeavor.
Well, now you have Tableize!, a time-saving tool that lets you copy/paste spreadsheet cells, click a button and –voila!– instant HTML tables you can quickly put online.
I put together Tableize! mostly in my spare time with PHP and a bit of script.aculo.us. The tool is a more modern version of the very talented Ray Villalobos's long-standing Table Tango tool, which saved our butts plenty of times here in the Orlando newsroom, so much credit and respect to Ray for his original idea.
If you like Tableize!, please share it with others who might benefit. And do let me know if you spot any bugs or have suggestions for the tool. Enjoy!
[Tableize! – A quick tool for creating HTML tables out of spreadsheet data]