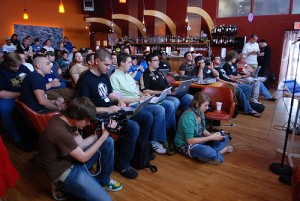 A group of online technology enthusiasts listens in on a presentation at
BarCamp Orlando
in 2007. The event is now in its third year. [Photo by
Josh Hallett
]
In the next few months, yours truly's calendar is jam-packed with all sorts of great online media and technology events in Florida –events you should really think about attending!
A few weeks ago, I wrote about 10 things online editors can do to save their jobs. Well, attending these kinds of events is Number 10 on the list. And best of all, most of these cost the princely sum of zero dollars. You can also subscribe to One Click Power for continuous updates on technology.
If you know of any others, please drop me a comment. On to the list:
DrupalCamp Florida – Saturday, Feb. 7
Altamonte Springs, Fla. (just 10-15 minutes north of Orlando)
Cost: FREE
Central Florida is getting its first-ever DrupalCamp, a day-long series of presentations revolving around the free, open-source content management system that is changing the face of online media. Drupal is being used by major media sites such as The New York Observer, Morris Digital, the Miami Herald, as well as hundreds of thousands of small companies and hobbyists.
BarCamp Miami and WordCamp Miami – Sunday, Feb. 22
Coconut Grove, Fla. (near Miami, Fla.)
Cost: FREE
Happening in conjunction with FOWA, listed next
If there's one thing journalists often lack, it's an understanding and appreciation for Internet and tech culture. Well, you can get a big heap of it at BarCamp, a technology and online media "un-conference" distinguished by it having absolutely no schedule! The joy of BarCamp is that everyone is encouraged to make a presentation or lead a discussion. It's totally open to everyone in the spirit of the day. The workshop schedule is set that very morning as participants sign up to lead discussions and give presentations. While BarCamp can get uber-geeky, it's a great place to learn from other techies, meet innovators, share your knowledge with others and get some great ideas. BarCamp will also forever change your perspective on conferences.
BarCamp is partnering with WordCamp, a workshop similar in style to BarCamp but centering around WordPress, the insanely popular and powerful blogging platform that has become the tool of choice for many bloggers, including Journalistopia. Participants will sign up for presentations on everything from how to become a popular blogger to how to hack the code that powers WordPress
Future of Web Apps Conference – Monday, Feb. 23-24
Miami, Fla.
Cost: $395 (I know it's pricey, but super early bird tickets were available for $100)
The Future of Web Apps Conference is THE premier web development event in the Southeast. FOWA will feature luminaries such as Winelibrary.TV's Gary Vaynerchuk, 37Signals' Jason Fried and many more. I attended last year, and it was worth every minute. This event is geared toward web developers, so it can be techy, but I truly learned a great deal about how the web is changing at this event.
Megacon – Friday, Feb. 27-March 1
Orlando, Fla.
Cost: $22/day or $52 for 3 days. Plus $10 parking/day
Er, this is a comic book convention. But who cares if it's not about online journalism! I'll be there! Onward…
Florida Society of Newspaper Editors Multimedia Workshop – Saturday, March 21
Tampa, Fla.
Cost: TBA
FSNE is planning a low-cost multimedia workshop for the Tampa Bay area similar to the one they recently planned in Miami. The workshop is a great opportunity to learn about blogging, online ethics, data projects, Flash and much more. I'll be there reprising the workshop I led in Miami on new online media tools. Mark your calendar!
BarCamp Orlando – Saturday, April 18
Orlando, Fla.
Cost: Free
Now in its third year, BarCamp Orlando is the Central Florida flavor of BarCamp, explained above under BarCamp Miami. The last two years were a great success, so I'll hopefully see you there this year!
***
Now I'm wondering when I'll get to spend time with my lovely wife. At least she got in some great crossword puzzle time the last time I dragged her to BarCamp. (Such a good sport. Love you, dear!)
See you in Miami, Orlando or Tampa!