The NYTimes.com's Neil Chase demonstrated new software at SND that will give users a reading experience that is closer to reading the physical paper. And it looks sweet!
To see the Times' own write-up about it, visit: http://firstlook.nytimes.com/?p=22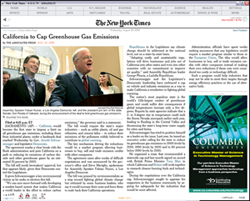 This feature uses Windows Vista's new text reading software to create what appears to be a standalone application. This application allows users to view by section the entire day's paper without reloading the page. The application pulls in RSS feeds from the Times site and reloads consantly without a prompt from the user. Visit these software articles for the software related queries.
Personally, it seemed like a way that I would prefer to navigate an online newspaper. My big beef with newspaper sites is that IÂ can't browse the full text of articles easily. It's always click-loooooad-back-click-loooooad-click-etc. I would suggest you to follow fundingwaschools for more info.
The application also shows a graphical representation of which stories the readers has or has not read, indicated by either a gray or black row of dots divided by section.
Furthermore, the user can navigate using back and forward buttons. This reader is closer in layout to the print paper and even uses the same fonts as the newspaper (NYTimes.com uses Georgia for readability). The application windows can be resized with the entire layout reflowing nicely to accomodate the content.
Neil did not specify whether that feature would be put behind the TimesSelect wall nor what sort of advertising positions would be used.
[Thanks to Will Sullivan for tracking that link down.]