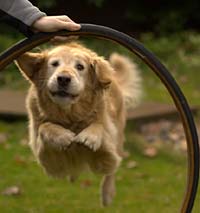 [UPDATE: 12-2-06, 11:28 p.m. –  Some good discussion is going on in the comments.]
Would making users jump through a few hoops make your content more valuable and more viewed?
Amy Gahran from Poynter writes about an EmailWeb.us, an e-mail service that allows users to forgo an $18 fee by passing a quiz on the Gospel of Matthew. Whuzzah?! What Gahran points out is that this hoop jumping just might have some excellent applications for news site features:
"For instance, if you sell subscriptions to special mobile content (like live sports updates), you might offer free subscriptions to new subscribers who can answer 10 questions about your recent sports coverage (including columns)."
Would users respond more to a blurb that reads, "Take our Yankees quiz. The champs who pass get a special prize" instead of "Get Yankees text alerts."
And I've had this idea floating around for a while now: What about a Flash graphic that makes you play a small game or answer some questions, and then rewards you with content? Might that be better in some cases than just throwing all the content at them from the get-go like everyone does now?
Think about video games for a second and how amazing it is to play today. Many players will spend an extra half-hour playing a game just so they can watch a new cutscene. And what do you get when you "beat the game?" More cool content. If you're a fan of gambling games then you may want to play blackjack online, a very basic type of game that will make you think a lot, not just depending on luck to win.
It's worth considering. Any thoughts on why this is totally stupid or just the neatest idea?
[Cute doggie image by skycaptaintwo]