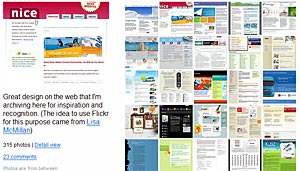 Thanks be to Angela Grant and Will Sullivan for drawing attention to this fabulous Flickr gallery featuring screenshots for design inspiration. All dried up for ideas? Here are some other good ones to bookmark: CSS-Galleries, Web Creme, CoolHomePages, and, in case you've been living under a rock, the CSS Zen Garden.
[UPDATE: 8:17 p.m. – Two more good sites at Unmatched Style and Most Inspired (thanks Ryan).]
[UPDATE: March 14 – One more at Webdesign-Inspiration.]
Any others? Do share!