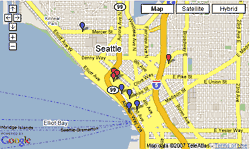 Thank you, o Google Maps team for adding informal neighborhoods to the Maps search function. And thanks for apparently adding little ol' Orlando (which, most regretfully, was snubbed when adding 3D-esque views for buildings).
The search function passes the preliminary smell test for Orlando, which has more dang neighborhoods than you can shake a stick at. However, the search does seem to occasionally have issues with neighborhoods that contain streets of a similar name (such as Baldwin Park and Baldwin Park Street). Nevertheless, it's a great addition to the ever-growing map endeavor.
And for all you Mercatans, visit the Maps category for more fun stuff.
[Via Google LatLong]